Helicopter Pilot returns to Sky After Devastating Accident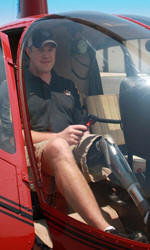 Patrick Scrogin received his flight instructor certificate just 10 months after he was told he would not be able to walk again.
Patrick enlisted in the infantry division of the Army, and after Airborne and Air Assault School was deployed to Iraq in April 2003. He later completed Warrant Officer Candidate School and began flying helicopters right away. He completed the Army flight program as honor graduate and the OH-58D helicopter armament course located in Virginia . Patrick was stationed in Hawaii for a short while before his unit went to the National Training Center . He was deployed to Northern Iraq July 22, 2006.
While in Kirkuk , Iraq , Patrick's life was forever changed after an engine failure caused his helicopter to hurtle toward the ground at 3000 feet per minute. In the six seconds it took for the helicopter to touch down, Patrick leveled the aircraft out of the 75-degree bank turn and saved his and his co-pilots lives. Though he had nine fractured vertebrae, an above-the-knee amputation, a crushed pelvis, nerve damage, and a partial amputation of a middle finger—an overall two month and two day stay at hospitals world-wide—Patrick was ready to get back in the air. After three months, he was walking, and in October of 2008 he began to learn to fly with his prosthetic leg.
It took him awhile to figure it out; but after flying diligently with Mike Hoser, the chief certificated flight instructor at Veracity Aviation in New Braunfels , Texas , he was able to get clearance from the FAA for his disabilities. He attained his flight instructor certificate in January. He continues to fly helicopters regularly and occasionally visits Brooke Army Medical Center to encourage those in situations like his. Patrick truly is a remarkable pilot who didn't let his passion for flying die.